Short-term study abroad
Short-term study abroad are often a requirement for entering the professional scientific sphere. Mobility of academic staff and students is ensured by international agreements, contracts and exchange programmes, including: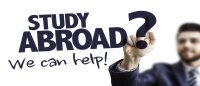 ---
Long term study abroad
In addition to short-term internships, it is also possible to complete an entire study abroad, receive a foreign scientific degree and be a student of Charles University at the same time.
Programmes are used for such studies:
The dcotoral student can complete a full course of study within an internationally accredited degree programme and receive one (Joint Degree) or more (Multiple Degree) degrees or complete a doctorate in two departments under dual supervision (cotutelle).